Workshop Health Technology Assessment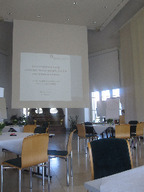 Modern medicine is developing at a rapid pace, for which reason lifelong learning is an absolute necessity in this field especially. The workshop "Health Technology Assessment" offered by Danube University Krems from April 26 to April 30, 2009, will give an introduction to HTA, show examples for the application of HTA and will also teach its methods. The workshop is held in cooperation with the Ludwig Boltzmann Institute for Health Technology Assessment.
Programme:
26.04. /Session 1: HTA and decisions in health care politics (Dr. Claudia Wild/ LBI-HTA)
27.04. /Session 2: Systematic literature research (Andrea Chapman, BA BS/ DUK-EBM)
28.04. /Session 3: Clinical epidemiology and critical appraisal (Prof. Dr. Gerald Gartlehner, MPH/ DUK-EBM)
29.04. /Session 4: Medical statistics (Mag. Erich Kwas)
30.04. /Session 5: Health economics (Dr. Ingrid Zechmeister/ LBI-HTA)
Further information you will find in the or online at
www.donau-uni.ac.at/ebm
Information:
Prof. Dr. Gerald Gartlehner, MPH
Danube-University Krems
Department for Evidence-based Medicine and Clinical Epidemiology
Registration:
Irene Wild
+43 2732 893-2911, irene.wild@donau-uni.ac.at
Location:
Danube-University Krems, Dr.-Karl-Dorrek-Straße 30, 3500 Krems
Language:
German/English
Participation fee:
1.700€
Degree:
Certificate
Closing Date:
There is a maximum of 20 participants. Registrations are wellcome until April 15, 2009.