News


Welcome to the homepage of AIHTA!
AIHTA is an acadmic non-profit institute. At our website we wish to present our research and give support for health care decision-making. Here all of our reports are available for free. For further information please contact the AIHTA team.
In the News section you will find our most recent publications: newsletter, project-reports etc. Previous reports you might find via Research areas, Research projects and Repository.

Announcement
Re-orientation of the Austrian parent-child preventive care programme Part X: further development of the mother-child-pass. Scientific support of the appraisal process
For the planned appraisal process in the context of the further development of the mother-child-pass, the LBI-HTA worked on the following preparatory reports on behalf of the Austrian Ministry of Health: In Part Xa of the project "Re-orientation of the Austrian parent-child preventive care programme", we analysed and compared national and international practice examples for the appraisal and contextualization of evidence. The identified similarities served as the basis for the development of an appraisal process for the further development of the mother-child-pass. The main features of this process were summarised in Part Xb. Additionally, we updated the guideline synthesis (Part IX) with screening recommendations from recent evidence-based guidelines for pregnancy. This update can be used as evidence basis for the appraisal process.
Publications:
Decision Support Document No. 78a and 78b: http://eprints.hta.lbg.ac.at/1039
LBI-HTA Project report No. 62 - Update 2014: http://eprints.hta.lbg.ac.at/996
Contact: Inanna Reinsperger

Newsletter
Event archive

Event
What is a life year worth? Defining the boundaries of public willingness to pay for better health.
03 December 2014/4 - 5.15 pm
Medical University of Vienna
Jugendstilhoersaal, BT 88, Level 2
Spitalgasse 23, 1090 Vienna, Austria


Announcement
Health Technology Assessment HTA has in many countries become an integral part of health policy decision-making. After the assessment (the synthesis of available research evidence) some countries undertake an appraisal of the evidence's impact and applicability for a specific context. Appraisal committees, sometimes called policy committees, work where research and policy meet. Appraisal committees facilitate the life of decision makers in health policy by translating research results into political recommendations. This working paper presents 11 appraisal committees from 7 countries and condenses their experience into recommendations. An appraisal committee set up in line with these examples of good-practice may serve as an important building block for transparent and evidence-based decision making in health policy.
Publication: Decision Support Document Nr. 72: http://eprints.hta.lbg.ac.at/1036
Contact: Claudia Wild

Newsletter

Announcement
The report contains an analysis of data and methods to calculate the costs of day surgery and inpatient treatment in Austria. Thus, varicose vein surgery was chosen as an example to proof several data sources for their applicability. Beside the calculation by using Austrian meta data and international costs from the UK, we used costs from individual hospitals. The calculated costs differed between 859 and 4,664 Euros for day surgery and 1,720-2,330 Euros for an inpatient treatment.
Publication: LBI-HTA Project report No. 71: http://eprints.hta.lbg.ac.at/1035
Contact: Stefan Fischer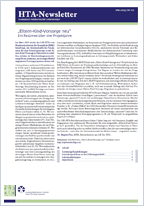 Newsletter Archive
Fehleinschätzung der Renalen Denervation

Perkutaner Vorhofohr-Verschluss

Stereotaktische, roboterunterstützte Radiofrequenzablation (SRFA)

Medikamentenfreisetzende Stents

Endobronchiale Ventilimplantation

HIPEC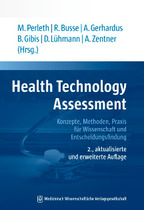 Announcement
The new HTA-teaching and practice book (revised 2nd edition) has been released.
With the collaboration of C. Wild and I. Zechmeister-Koss.